Solexx Greenhouse Covering Flyer (printable flyer)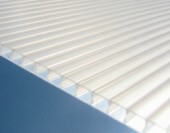 Twin-wall Solexx™ greenhouse covering is a high density polyethylene plastic (HDPE) that reduces your heating costs while providing 98-100% diffuse light to your plants. The strong shatter-proof glazing protects your plants from harsh weather conditions without cracking or discoloration.
The flexible Solexx™ glazing ships in rolls to save money on freight and the material can be bent around corners (up to 90 degrees) and over roof peaks for a perfect seal. Solexx™  is easily cut to size with a straight edge and a sharp utility knife.
Solexx™ tops the charts for greenhouse covering options due to its superior performance which means high heat retention and less temperature fluctuation for your plants and lower heating bills for you!
Features of Solexx Greenhouse Covering:
Better insulation than any other greenhouse covering, 2.1 to 2.3R – save on heating and cooling
Easily flexes around corners and over peaks to create a watertight seal
Weathers wind, hail, snow and ice storms without tearing
Diffuses the light; no shadows or burned plants – an ideal growing environment
Easy installation on your greenhouse frame, simply overlap the panels and screw in place
Proprietary UV agent throughout Solexx – superior UV protection that won't scratch off
Solexx in inert, BPA free
Does not yellow or lose light transmission with age
Installs horizontally or vertically for less waste (unlike polycarbonate)
Fits all types of greenhouses – 4′ and 6′ on center
Available in continuous rolls up to 900' long – fewer seams
Easily cleaned
Made in the USA
Solexx Greenhouse Covering Installation Tips:
Solexx™ scores and cut easily – no power saw required
Available in pre-cut panels or custom length rolls up to 900′ long (fewer seams means better insulation and less work)
5mm Solexx Pro is suitable for all application. 3.5mm Solexx XP is best for endwalls and structures 2′ on center or 4′ on center with bracing.
Simply overlap the panels (panels are an extra 1″ for overlapping)
Solexx™ greenhouse rolls can be installed the full length of the greenhouse in one continuous piece.
For additional information, see our
Installation Guide
Solexx MSDS Sheet
Solexx Snow Load Video
Solexx Greenhouse Covering Available SizesGSR-160-43.5mm Solexx XP – ship up to 150′ UPS
| | |
| --- | --- |
| | Less than full roll (49.5″ wide only) |
| GSR-240-CUT | 5mm Solexx Pro – ship up to 100′ UPS |
| | |
| GSR-160-400 | 49.5″ x 400 ft roll – 3.5mm Solexx XP – 1650s sq ft/pallet (32″x32″x55″) |
| GSR-160-900 | 49.5″ x 900 ft roll – 3.5mm Solexx XP – 3713 sq ft/pallet (48″x48″x55″) |
| GSR-240-300 | 49.5″ x 300 ft roll – 5mm Solexx PRO – 1238 sq ft/pallet (32″x32″x55″) |
| GSR-240-600 | 49.5″ x 600 ft roll – 5mm Solexx PRO – 2475 sq ft/pallet (48″x48″x55″) |
| | |
| GSR-240-52-300 | 52″ x 300 ft roll – 5mm Solexx PRO  – 1306 sq ft/pallet (32″x32″x60″) |
| | |
| GSR-240-65-300 | 65″ x 300 ft roll – 5mm Solexx PRO – 1625 sq ft/pallet (32″x32″x70″) |
| | |
| GSR-240-6 | 77″ x 300 ft roll – 5mm Solexx PRO – 1937.49 sq ft/pallet (32″x32″x82″) |
| | Shipped flat or in rolls depending on quantity |
| GSP-160-8 | 49.5″ x 99″ – 3.5mm Solexx XP Panels |
| GSP-160-12 | 49.5″ x 146″ – 3.5mm Solexx XP Panels |
| GSR-240-8 | 49.5″ x 99″ – 5mm Solexx PRO Panels |
| GSR-240-12 | 49.5″ x 146 " – 5mm Solexx PRO Panels |